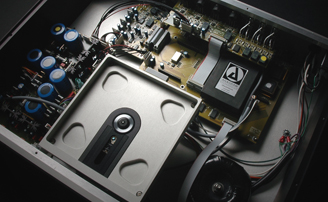 The design of the Integris CDP is modular, upgradeable and expandable. It has certainly been developed to be the best it possibly can be, given today's technology. Numerous provisions have been included in the design to accommodate additional or improved features.
User interface and digital signal processing firmware may be updated, if needed. Also, any individual board could be revised to add new features and there is room in the chassis for additional PCB modules: MM/MC phono stage and headphone amplifiers are definite possibilities. The DSP board has an additional socket for another Quantum-caliber super-processor, should we release additional digital applications.
We have preliminary work complete for parametric EQ and phase correction – features that may become part of a broader room/speaker analysis and correction system – and we will surely consider DSP executed active crossover at some point, however these efforts as yet don't rival the high level of performance achieved in our present digital and analog circuits. We will only release product that meets our high standard for performance – we anticipate that further evolution of processing power and software algorithms are needed to achieve this.